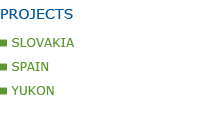 Auropean Ventures Inc. Projects
OVERVIEW
SLOVAKIA : Auropean Ventures operates in Slovakia through its wholly owned subsidiary Aurpoean Slovakia s.r.o. The company is presently focused on recovering, exploring and developing the Slovinky-Gelnica Project, in east-central Slovakia. Auropean has delineated numerous copper veins, highly enriched in gold and silver, and that have only been exploited to shallow depths. Samples from waste rock and adits show copper values, commonly up to 2.7% Cu, gold values up to 8.8g Au/t, and silver values up to 153g Ag/t. Drill targets have been identified.
Auropean's CEO and President has extensive experience in Slovakia having worked in conjunction with RNDr. Piovarcsy, managing director of Auropean Slovakia, and others since the late 1990s. Slovakia is a member state of the European Union, and has adopted the Euro currency. It is an attractive country for investment because of its well-educated labour force and moderate wages and tax rates. The government and local people in the Slovinky-Gelnica area are favourably inclined and proactive towards mining developments in the area. Some areas have been designated (protected) as CHLUs for mining.
SPAIN : Auropean Ventures operates in Spain through its wholly owned subsidiary, Auropean España S.L. Company management has extensive experience in Spain, having completed extensive exploration throughout northwestern Spain, including expanding the Corcoesto deposit in Galicia, and engineered Kinbauri Gold Corp.'s acquisition and expansion of resources (by 600,000 oz. Au) at the El Valle and Carles mines in Asturias, Spain before its takeover in October of 2009. Most recently the company has been working on exploring and developing a gold project in Castilla y Leon where throughout soil sampling, it established a gold zone with a length of over 6.5km. Drilling and channel sampling indicates that the zone consists of high-grade quartz veins, 13.25g Au/t over 1.95m within a lower grade envelope, e.g. 1.74g Au/t over 18.3m. The company has the personnel and capabilities in place to revive its quest to discover and develop attractive projects in northwestern Spain.
The federal government of Spain is supportive of exploration and mining, for example, prior to the economic crisis it subsidized exploration. Support for the mining sector from the different autonomous provinces varies. Castilla y Leon is one of the provinces that looks on this sector in a favourable light. No government royalties exist on exploration permits and mining licenses in Spain.
YUKON : Auropean Ventures owns 20% of Mayo Lake Minerals Inc., an Ontario based company that owns 1,139 claims covering 231 square kilometres in the Mayo Lake area of central Yukon Territory, Canada and NSR royalties ranging from 2-2.5% on the same claims. The claims were originally acquired because of: (i) previously overlooked analytical results of stream sediment and water sampling and assays of heavy mineral samples for gold; (ii) the location of unstaked terrain adjacent to placer operations; and (iii) favourable geology. Geophysical, geochemical and prospecting programs completed by MLM have identified highly prospective drill targets on all claim groups.
Dr. Rampton, P.Eng., Auropean and Mayo Lake's CEO and President, has been active off and on in the Yukon since 1961, and Mr. Sutherland, P.Geo., Mayo Lake's VP-Exploration has been completing field work and community relations every summer since 2012 in the Yukon. The Yukon government is pro-mining and considered to be one of the most favourable jurisdictions in the world for exploration and mining. First Nations commonly work hand-in-hand with mining and exploration companies.