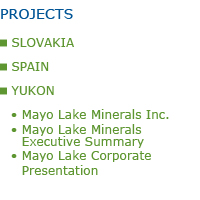 Mayo Lake Minerals Inc.
Since 2010, throughout the Mayo Mining District of the Yukon Territory, within the Tintina Gold Province (TGP), staking and exploration accelerated due to (i) the realization that numerous styles of mineralization had been previously overlooked in the TGP and (ii) the large increase in the price of most metals having permitted lower-grade (<3g Au/t) high tonnage and high-grade, narrow vein type deposits to be mined at a profit. Prime examples of these lower grade deposits are the Fort Knox Deposit, Dublin Gulch-narrow sheeted veins, Brewery Creek the Golden Saddle Deposit-disseminated gold in fractured rock of the White Gold District (Table 1) and the Osiris Zone (Carlin-type) of the Nadleen Trend (150m at 3.2g Au/t). Fort Knox, Dublin Gulch, Brewery Creek and Rau which all lie within the TGP and its equivalent in Alaska where gold deposits are generally related to the Cretacious Intrusives.
Beginning in early 2011, Auropean Ventures Inc., a private Ontario based company, staked 7 claim blocks, consisting of a total of 1674 quartz claims. Subsequently, the claim groups were reduced to five and the number of claims to 1,226 because of the dropping of claims judged to have low prospectivity and the amalgamation of claim groups.
The Claim Groups were originally acquired by Auropean not only because of the two above factors, but more specifically due to:
previously overlooked analytical results of stream sediment and water sampling, but most importantly because of assays of heavy mineral samples for gold, reported in the early 1970s by the Geological Survey of Canada (GSC) in the Mayo-Keno Hill area.
(These results were not included with more recent, less detailed surveys, in the Yukon government data base, even though the Yukon Geological Survey (YGS) recognized the potential for gold deposits based on the data);
the location of unstaked terrain adjacent to placer operations; and
favourable geology, including the proximity to the Robert Service Thrust.
The Claims to the northeast of Mayo Lake also have skarn potential, being in the halo of the Roop Lakes Stock Intrusive. The Keno Hill Quartzite also raises the possibility of high grade silver mineralization here as at Keno Hill, itself.
In order to focus on its more advanced European properties, AVI vended a 100% interest all claim blocks to Mayo Lake Minerals Inc. in late 2011 and early 2012 in return for common shares of Mayo Lake, NSR Royalties and exploration commitments. Mayo Lake has conducted airborne geophysics, soil and stream sediment sampling and prospecting since 2012 with a good deal of success on limited funds. The programs and their results are well illustrated in Mayo Lake's Corporate Presentation and 2 page Executive Summary.
Mayo Lake now holds 1,139 claims, covering 231 square kilometres in the Tombstone Plutonic Belt, which has high prospectivity for orogenic and intrusive related gold deposits. This Belt hosts
Mayo Lake's claims have been divided into five claim groups:
Anderson-Davidson: flagship property, Anderson Gold Trend with gold structures and gold anomalies ready to drill

Trail-Minto: long linear gold anomalies, Roaring Creek Stock

Edmonton: gold anomaly on edge of large geophysical anomaly

Carlin-Roop: precious and base metal potential identified

Cascade: folded and faulted, 2250 ppb Au soil anomaly
The Anderson-Davidson property appears to have similar geology and mineralization to Goldstrike-Newmont's Plateau project, lying just to the southeast of the Anderson Gold Trend.
Mayo Lake's proposed 2018 drill program focuses on identified prospective targets in the Anderson Gold Trend. It is also proposing to complete extensive trenching programs on gold anomalies delineated at Trail-Minto (similar geology to Victoria Gold's Eagle Deposit) and a silver anomaly at Carlin-Roop (located at the eastern end of the Mayo Silver mining camp).
Presently, Auropean Ventures Inc. owns a 20% interest in all of Mayo Lake's Yukon properties and holds NSR royalties ranging between 2.5 and 2.75% (see News).